CAMPUS LIFE – SIGNIFICANCE
Given all the debate over the value of a college education, it is curious to me that very little attention has been paid to the value of campus life. The data are very clear — the impact of higher education increases dramatically when students are enrolled in a college that engages them in a robust campus life program, especially in a college where they live on campus and are constantly interacting with a range of people and ideas.
For example, the Gallup organization has done extensive longitudinal research on the connection between college and success in life. That research is compiled and presented in the Gallup-Purdue Index. They find participation in an activity outside the classroom (what I will call a co-curricular activity) to be one of the most significant predictors for success. Students who were highly engaged in a co-curricular activity are 1.4 times more likely to report thriving in all aspects of their lives and 1.8 times more likely to be thriving in their careers.
Perhaps the clearest statement of the importance of campus life is a recent book, Making Decisions in College, by a group of faculty from Wellesley College and Bowdoin College. The authors pull from a five-year study that followed more than 200 students to argue that, just as in life, the college experience is shaped by the decisions we make and don't make on a daily basis. While in college, students have the opportunity to develop skills, values and habits they will need as adults.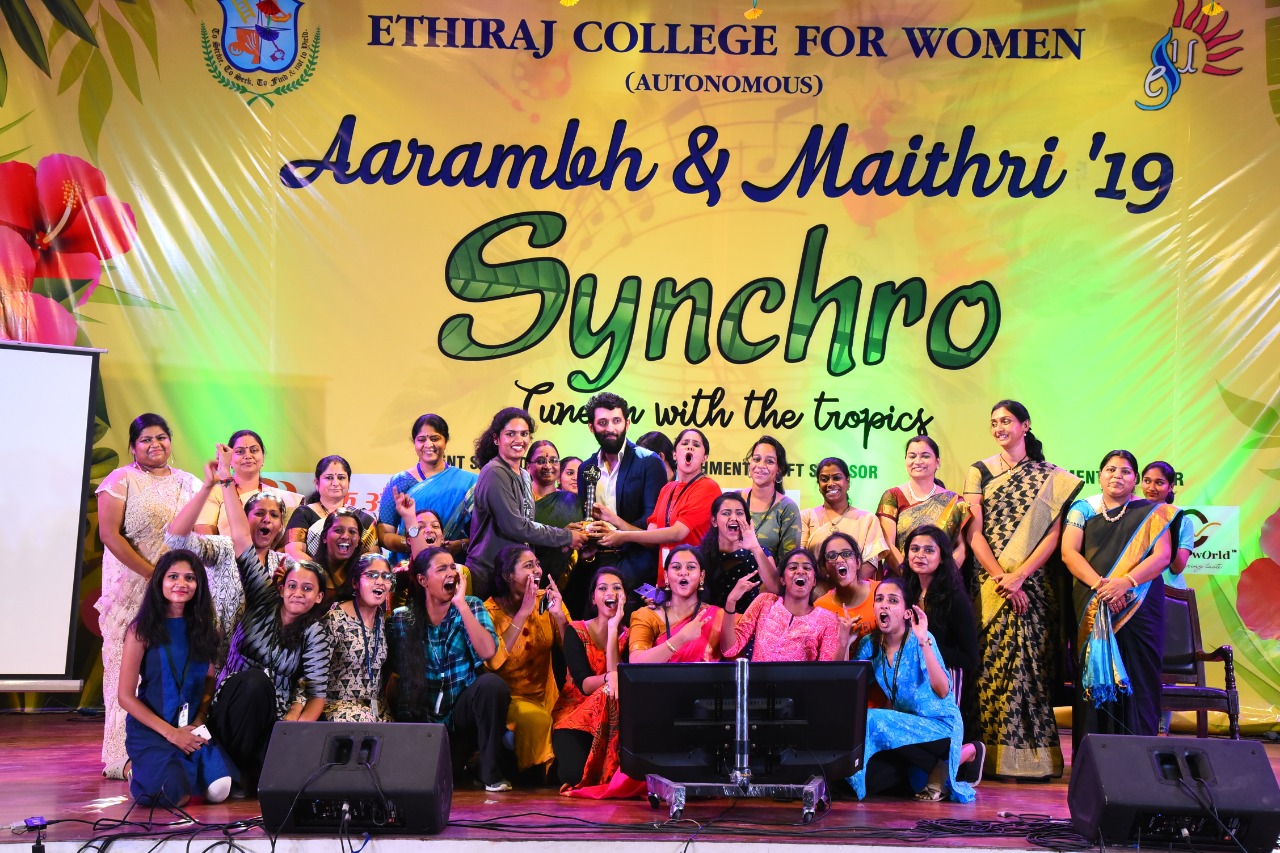 MAJOR EVENTS IN THE ACADEMIC YEAR
Union Inaugural
Aarambh and Maithri
Rhapsody
Chronicles
Atlantis
Ethnic day
Margazhi utsav
Youth conclave
Annual production
Srishti
Union Elections
Union valedictory and endowment lecture
Union Investiture
The prime objective of the Arts Club is to inspire and enable the students to actively learn and develop their talents and skills exposing artistic expression. This club provides artistic opportunities beyond the walls of classroom. From mixed medium to water color and traditional oil painting, students can find where their unique talents lie and explore new avenues of enrichment and expression. The office bearers of the club for the year 2019-2020 include, Divine Rizia R. V – President, Rubika Dharani. S – Vice President, Dhanapriya. A – Secretary. The members of the club were selected based on their creativity, wise usage of materials and out of the box thinking. Students design, draw and paint banners for college functions as well as produce artwork using unique materials to stretch and grow their creativity. All the cultural activities of our college right from Arambh Maithri to the college's most spectacular event Srishti was monitored and executed through this club with the help of Students' Union. The club's annual event, Rhapsody was a huge success with iconic celebrities. Arts Club helped several other club activities throughout the year. Students from our club represented our college at various inter-collegiate events.
The main aim of the English Teatro Club of 2019-2020 was to take every chance we get. The office bearers of the club were Indhumathi.P. M – President, Abrina George – Vice President, Kaavya.J.S – Secretary. The intercollegiate stages attended were Madras Christian College in September, Stella Maris in November and I.I.T. in January. At M.C.C. one of our team members participated in the mono acting competition. At Stella Maris, The Final Bow performed by them was 'Peril at Peddler's Cove', our own adaptation of Agatha Christie's "And Then There Were None". At I.I.T. SAARANG, 'Pygmalion', an Indianized version of the play "Pygmalion" by George Bernard Shaw was performed. Final and grand show was "The Annual Production" for which a sponsor of Rs.10,000 from Srimatha Cancer Care was received, to perform 'A Series Of Killings', original script about a Serial Killer who cannot kill by the members of the team. The reviews received were all good. Although, some things in the story did not make all that much sense, creativity is what mattered and that's what everyone liked. They could see how creative we were with characters and their nuances. Audience understood most of the jokes and the story was quite relatable. One could say that it was the highest point of creativity among other stages.
The start of Tamil teatro 2019-2020 happened by officially announcing the club heads on 30th July, 2019. Tamilselvi- President, Aarthi – Vice President, S. Dhanasree- Secretary. To bring out talents and selecting members for the club an audition was made on 6th August, 2019. Judge for the audition was Ms. Priyanka Sadhasivam. Out of 86 members, 43 were selected.
In this academic year we have won many competitions held by various colleges across Chennai. Events concentrated by our club are mime, streetplay, variety show, adzap, channel surfing, monoacting, monologues, short plays etc… We took active participation in many events conducted by various colleges. Some of them are I.I.T., V.I.T., M.C.C., STELLA MARIS, MADRAS MEDICAL COLLEGE, CHENGALPATTU MEDICAL COLLEGE, STANLEY MEDICAL COLLEGE, SAVEETHA COLLEGE, JBAS SIET COLLEGE, S.I.V.E.T., GURUNANAK, G.S.S. JAIN, CHEVALIER THOMAS COLLEGE, W.C.C and many more
This year end the Annual Production took place on 22nd February 2020. The production named 'AVAL' written by Tamilselvi. M was a mysterious and an emotional drama containing 20 actors and 10 co- ordinators. It was lauded by almost everyone and got nearly 100 people as audience.
The Quiz Club of Ethiraj College for Women (2019 – 2020) functions with the overt aim to constantly engage students who have a flair for quizzing. Office bearers of the Club for the year 2019-2020 include Shivangi Mandal ( President) , R. Preetha ( Vice President) and Ritika Kashyap (Secretary) . Members of the club were selected after examining them in various genres ranging from fandom to current affairs, sports, business, literature, environment, etc. The Club's Annual event ATLANTIS saw a huge footfall and multiple quizzes were hosted by Quiz Masters excelling in that particular Genre. Members of the Club bagged home various prizes such as Tata Crucible Quiz 2020 ( Rs. 35,000 Cash prize), Saarang's Milan, Anna University's Fandom Quiz , etc. The Club members also took part in series of web quizzes conducted by various quizzing platforms during the lockdown.
The 2019-2020 Debate club primarily fixed its focus on active participation of the club members without compromising on consistent preparation. The development of their oracy skills have been nothing but an upward graph. The office bearers for the year 2019-2020 are Arsmitha. K – President, Reshma – Vice President, Poornapushkala. S – Secretary. Among the myriad intercollegiate events attended, the students bagged several prizes for Debate, Block and Tackle, JAM, Spin A Yarn and Shipwreck conducted by Madras Christian College and Guru Nanak College. Apart from these cultural events, the Model United Nations debate and reporting journey has been one of its own. With dutifully firm research, masterful speeches and ripping articles the students almost sweeped the board. The MUNs participated and got placed include SRMR MUN, SRMV MUN, SSN MUN, SNSI MUN and WCC MUN.
On 27th November, Chronicles'19, the annual Debate and Literary fest was organized with a never before bang. The event was themed 'Spectra- Converge, Emerge and Diverge'. Our motto said, "Your spirit might perish at your opponent's sword, but you can bring yourself back to life through your spectrum of words." This event witnessed over five hundred participants from different colleges which adds as a feather to our hat. The year was brought to a close by conducting few online debate sessions within the club during the period of lockdown. In short, it was a lively year that stayed true to our motto.
The Literary club of Ethiraj College for Women 2019-2020 headed by Priyanka Shankar – President; Aishwarya Iyer – Vice President; F. Nasreen- Secretary, comprises a group of students who have been chosen on basis of their writing abilities to fine tune their literary skills and to participate in literary related events. It is an active club with 30 members who have participated in various intercollegiate events throughout the academic year and have won many competitions across colleges in Chennai. The literary club along with the debate club of the college conducted the annual literary and debate fest of the college, 'Chronicles'-Spectra in November which saw a huge turnout of participants from various colleges in Chennai. The club conducted various book discussion sessions and writing competitions for the members to showcase their talent and develop their skills. It has always been a tuned and updated club to improvise our members' literary knowledge and will continue to grow with more activities in the upcoming years.
The Film Appreciation and Photography Club of Ethiraj College involves the following activities:
▪ Designing posters and certificates
▪ Editing videos, Trailers, AV for Walkins
▪ Photography
The Heads of the club for the year 2019-2020 include K.Madhumitha – President, Reema Kathuraal- Vice President and Nithyasree Gopinath- Secretary. There were 30 members selected by the heads of the club, on the basis of their skills on photography and video editing. The club has designed posters, trailers, AVs, and certificates for the programmes "AARAMBH & MAITHIRI," "SRISHTI,'' "RHAPSODY,'' "CHRONICLES,'' "ATLANTIS,'' and so on. The Film Appreciation and Photography Club along with the Arts Club of Ethiraj College conducted the Annual Inter College Fest called Rhapsody, on 16th September 2019, a fest that made students showcase the best of their skills and knowledge on Media. The club has always been supportive to all the events conducted by the college. The members of this club have had a great experience and gained practical knowledge on dealing things. They were very cooperating. The club will also be a support system for the upcoming events and organize them in the best way it could.
The Fine Arts Club of Ethiraj College integrated the classical forms of music and dance together. It has Classical dance – Bharathanatyam and Carnatic music under their banner. The club was headed by Shruthe Raammohan – President, Sailakshmi Ramachandran – Vice President and Ms. Pravarthika Balaji – Secretary. The main event of the club was "Ethirajil Thiruvaiyaru" which was three days event showcasing Bharathanatyam, Carnatic music and fusion music whichj was performed by the members of the club. This year, the event also witnessed Mr. Sai Vignesh and Mr. Giridharan as the guest performers on Day 1 and Day 3.
Apart from this, the students of the club perform for college functions like Founders day, Srishti, College day and other cultural programs. The students are also encouraged to participate in other college cultural activities like I.I.T. Madras, M.O.P. Vaishnav College for Women, etc. The members of the club also shine in their personal careers in fine arts and perform in the coveted December music and dance festivals across Chennai. Thus, the club ably guides the members to find their own talents in the art field which in turn builds their career in the world of classical arts.
ETHIRAJ COLLEGE FOR WOMEN
ADDRESS
70, Ethiraj Salai, Egmore,Chennai 600008, Tamilnadu, India
PHONE
+(91)-44-28279189
EMAIL
[email protected]
On smaller computer screens website is better viewed at 75% zoom