Part I Foundation course in Hindi (to all UG programmes) – 4 Semesters
Part IV Basic Hindi – 2 Semesters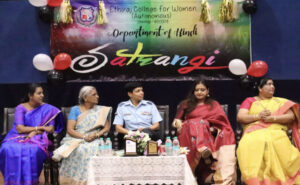 Satrangi Association – Intercollegiate Competition – Chief Guest – Wing Commander " Asha Jyotirmai" Senior Accounts & Hindi Implementation officer at Airforce Station, Avadi. Chennai. & Manju Bhargavi SupervisorAFWWA(L)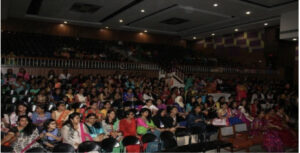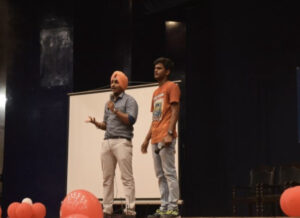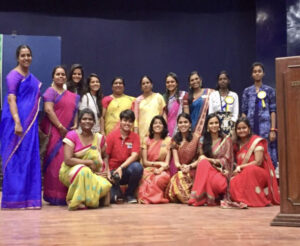 Students from other colleges participating in the Events.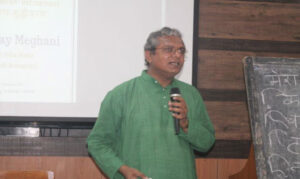 Workshop – Pronunciation Refinement & Hindi Language' – Shri Udhay Kumar Meghani, Hindi Announcer, All India Radio, Chennai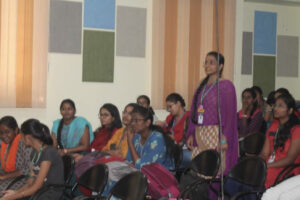 Students Actively participating in the Workshop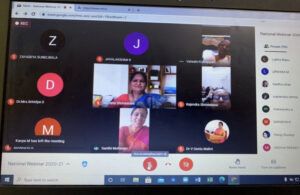 National Webinar – Dr. Usha Srivastav – Retd Prof & Head Dept.of. Hindi Acharya Institute of Graduate studies, Bangalore.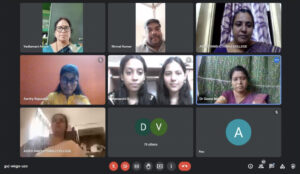 National Webinar – Mrs. Vadlamani Aruna – Hindi Officer Central Inland Water Transport Corporation , Kolkata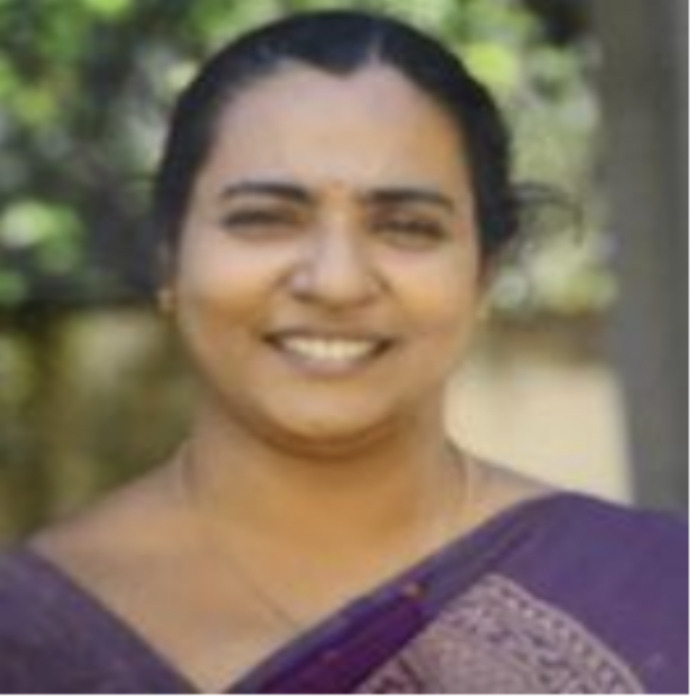 Dr.N.Lavanya
Qualification:M.A,Ph.d, P.G.D.H.T
Designation: Assistant Professor & head
Years Of Experience: UG: 5 years & 2 Months
Previous Experience: UG: 18yrs
Area Of Specialization : Comparative Literature, Novels & Short Stories
Email ID: lavanya_n@ethirajcollege.edu.in
♦ View Profile ♦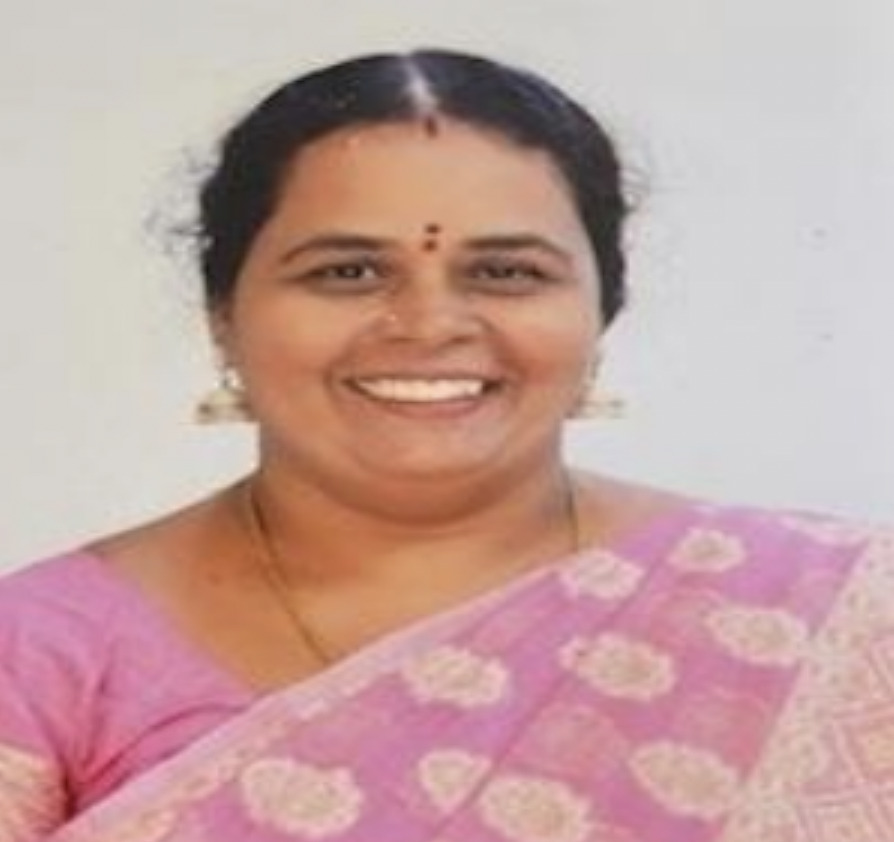 Qualification: M.A, Ph.D
Designation :Assistant Professor
Years Of Experience:  UG: 5yeas & 2Months
Previous Experience: UG: 8yrs
Area Of Specialization : Comparative Literature, Novels & Short Stories
Email ID: srividya.g@ethirajcollege.edu.in
♦ View Profile ♦
Journal Publications
S.NO 

JOURNAL NAME 

UGC /SCI/SCIE/WOS 

ISBN / ISSN 

NUMBER 

REFERENCE 

DATE OF PUBLICATION/DOI 

1

Gaanv ki nayi aawaz 

ISSN 2394-0115 

Tamil aur Kahani Sahitya 

2021 
Other Academic Activities 
1. Recognized her services as External Expert in content preparation for the certificate course in Hindi at Central Hindi Directorate New Delhi. (2017) 
2. BOS Member – Ethiraj College for Women (Autonomous)  Bharati Womens College (Autonomous) 
External Examiner
Women's Christian College (Autonomous)
New College for Men(Autonomous)
Queen Mary's College (Autonomous)
Madras University 
Activities of the Department 
S.No 


Date of the Event

Title of the Workshop/Seminar
/Webinar/FDP 

Category (National/International/State) 

Name of expert(s) invited along with the name of Institution(s

1

22/08/19 

Workshop 

–

Dr.Subbulakshmi Ganesan Assistant Director (OL) i/c, Doordarshan Kendra, Chennai 

2 

03/12/19 

Workshop 

–

Mr.Usha Meghani – Announcer- All india Radio, Chennai 

3 

04/06/2020 

Webinar 

National 

Dr.Punamkumari. Professor, Dept.of Hindi Jawaharlal Nehru University, NewDelhi 

4 

05/03/2021 

Webinar 

National 

Dr.Usha Srivastava Prof & Head, Dept.of.Hindi Aacharya Institute of Studies – Bangalore 

5 

27/12/2021 

Webinar 

National 

Mrs. Vadlamani Aruna Hindi Officer, Central Inland Water Transport Corporation Ltd, Kolkata 
NationalNationalMEMBERSHIP
| | | |
| --- | --- | --- |
| S.No. | Details | State/National/International |
| 1. | Associate Editor – International Journal of Hindi Research | International Journal |
CONFERENCES ATTENDED / PRESENTED PAPER
S.no.
Organized by
State/National/
International
Participated/Presented
Title
Date(s)
1
Jai Narayan Vyas
University, Jodhpur,
Rajasthan, India
International
Participated
Recent
Pandemic, Environmental
Consequences,
June 4&5
2021
2
InPods Ed-Tech
National
Participated
Program Design
Concepts based on
OBE – Criteria 1 of
NAAC
24.04.2021
3
Ayya Nadar Janaki
Ammal College
Sivakasi, Tamil Nadu
National
Participated
Dakshin Bharat
mein Hindi Lekhan
Ki Pravrutiyan
22.05.20
4
Rajakiya Mahavidyalay,
Tihari, Gadwal,
Uttarkhand
National
Presented
Sahityaanuvad:
Avasr evam
Chunautiyan
11.06.2020
5
Baldwin Womens
Methodist College,
Bangalore
National
Participated
Covid 19 ki
mahamari mein
galp(Kahani aur
Upanyas) ka
sansaar:lekhan ki
chunautiyan
13.06.2020
6
Guru Shree Shantivijai
Jain College for Women,
Chennai
National
Participated
Hindi Kathha
Sahitya mein stree
vimarsh ki
avadharana aur
Vikas
16.06.20
7
Rajakiya Mahavidyalay,
Tihari, Gadwal,
Uttarkhand
National
Presented
Lok Sahitya –
Mahtva Evam
Prasangikta
20.06.2020
8
SRN Aadharsh College
National
Participated
Hindi Bhasha Aur
Sahitya
25.06.2020
9
Loyola Degree College,
Bangalore
National
Presented
Anuvad Vimarsh &
Parampara,
Aadhunikatha aur
Sahitya
02.07.2020
10

Guru Nanak College, Chennai 

National
Participated

Women in Hindi Literature 

08.07.2020 

11

Maharishi Veda Vyas Post Graduate College , Bhakara, Dist – Dhampatri, Chattisgargh 

National
Presented

Premchand aur Aaj Ka Bharat – Kisan, Yuva aur striyon ke sandharbh mein 

14.07.2020 

12

Shree Narayana Guru College, Coimbatore 

National
Participated

Sahitya ki Jivanonmukhtha 

25.07.2020 

13

Cochin University of Science and Technlogy (CUSAT),Kerala 

National
Presented

Premchand-Ikkeesvi sadi Mein 

29.07.2020 

& 

30.07.2020 

14

Sri Ramachnadra Institute of Higher Education & Research, Maduravoyil, Chennai 

National
Participated

Curriculum Enrichment 

31.07.2020 
Book Publication

| | | | | |
| --- | --- | --- | --- | --- |
| S.No  | Title of the Book Published  | ISBN No | Name of the Publisher  | Year of Publication  |
| 1 | Hindi Evam Tamil Sahitya kaa Sampkshipth parichay  | 978-93-87990-77-7  | Harshawardhan Publications pvt ltd Maharashtra  | 2019 |
JOURNAL PUBLICATIONS

S.NO 

JOURNAL NAME 

UGC /SCI/SCIE/WOS 

ISBN / ISSN NUMBER 

REFERENCE 

DATE OF PUBLICATION/DOI 

1
Printing Area International Multilingual Referred Journal

UGC – SR- 4303

Indexed

Impact Factor -7.011

ISSN 2394-5303

Hindi Upanyas Aur Naari Asmita 

30 Oct 2021 

2

International Journal of Hindi Research 

UGC Peer Reviewed Impact Factor – 5.22 

ISSN 2455-2232 

Mohan Rakesh ki Kahaniyon Mein stri Purush ke badalte sambandh 

www.hindijournal.com 

19.01.21 

3

Gaanv ki nayi aawaz 

ISSN 2394-0115 

Meri Yaden – Sansmaran 

July _ Sep 2019 

4

Printing Area International Multilingual Referred Journal 

UGC – SR- 4303 

Indexed 

Impact Factor -5.011 

ISSN 2394-5303 

Kabir ka Sahaj Dharm 

30 April 2018 

5

IRJHLL 

Peer 

Reviewed 

Impact Factor -5.401 

ISSN -2394-1642 

Premchand Yugin Hindi Upanyason Mein Samajik Chetna 

www.aarf.asia 

Nov 2018 

6

International Journal of Hindi Research 

UGC 

Impact Factor 5.22 

ISSN 2455-2232 

Swatantryottar Yug Aur Naari Chetna 

www.hindijournal.com 

Nov 2018 

7

IRJHLL 

Peer 

Reviewed 

Impact Factor -5.401 

ISSN -2394-1642 

Sampradayik Sadhbhavna Aur Hindi Ghazal 

www.aarf.asia 

August 2017 
FDP/STTP 
| | | | | |
| --- | --- | --- | --- | --- |
| S.no  | Organized by  | State/National/International  | Topic  | Date(s)  |
| 1  | Ramanujan College, University of Delhi  | National  | "MANAGING ONLINE CLASSES and CO-CREATING MOOCS:2.0"  | May 18 – June 03, 2020.  |
AWARDS: 
Won cash prize of Rs. 5000 and also received " Govindarajan Bhasha Sethu Samman" award for her contribution to Hindi & Tamil Literature from Sahitya Samvardhan Sansthan, and Gawan ki nayi awaaz patrika, Praygraj, Uttarpradesh 
Resource Person 
| | | | | |
| --- | --- | --- | --- | --- |
| S.no.  | Organized by  | State/National/International  | Topic  | Date(s)  |
| 1 | Dwaraka Doss Govardhan Doss Vaishnav College, Chennai  | National  | Katha Samrat Munshi Premchand  | 31.07.2021  |
| 2 | Abhyuday Internationa Hindi Institute, Bangalore  | International  | Shaishanik sansthaanon mein Hindi ki stithi  | 27.09.2021  |
Other Academic Activities
Member – Academic Council, – Ethiraj College For Women (Autonomous) 
Vels University (From 2009-2016) 
Member IQAC – Ethiraj College For Women (Autonomous) 
Vels University (From 2009-2016) 
Chairperson Board of Studies – Ethiraj College for Women (Autonomous) 
Vels University, (From 2009-2016) 
BOS Member – Dwaraka Doss Govardhan Doss Vaishnav College (Autonomous) RKM Vivekananda College (Autonomous) Sathyabama Deemed University 
External Examiner – RKM Vivekananda College (Autonomous) New College for Men(Autonomous) Madras Christian College (Autonomous) Sathyabama Deemed University Madras University
About Us:
The Department of Hindi was established in the year 1948.
The Department offers strategic leadership in the cross-currents of Higher Education and adds zest to perceptions of language and literature in its syllabus.
The Foundation Hindi course offers at the UG level helps to develop the competence of the students in the Hindi Language and gives them a taste of Hindi Literature.
The syllabus aims to improve and strengthen knowledge in the Hindi Language.
The Department conducts webinars and workshops at the National level.
The Department Conducts its Annual Association "Satrangi" to enhance their skills in
communication, presentation and also in various Co-Curricular Activities

Department Email ID:  hindi1331@ethirajcollege.edu.in
ETHIRAJ COLLEGE FOR WOMEN
ADDRESS
70, Ethiraj Salai, Egmore,Chennai 600008, Tamilnadu, India
PHONE
+(91)-44-28279189
On smaller computer screens website is better viewed at 75% zoom