DEPARTMENT OF COMMERCE
AIDED
COURSE DETAILS 
Courses offered 
UG : B.Com. 
PG : M.Com. 
Research Programme : M.Phil. Ph.D. 
Sanctioned Strength : 
Undergraduate : 70 
Postgraduate : 25 
Research Programme : 12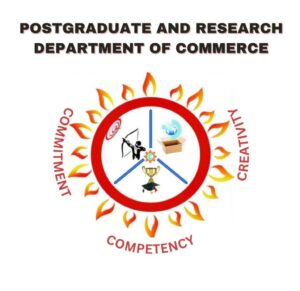 The Department was established in 1975 to meet the ever- growing demand for the B.Com course from women aspirants. It was started with an initial strength of 50 students and one staff – Ms. Nirmala Prasad, when only 5 colleges in the state of Tamil Nadu were offering the course for women. Since then the department has made significant strides in imparting Commerce education. Six years after its inception, in 1981, the M.Com degree course was introduced. The Department of Commerce (Self-Supporting) was started in June 1981 with an initial strength of 70 students. With the pressing demand for the course, a second batch with strength of 70 students came into force in 1984-85. This acted as a trend – setter for starting other courses in the Self Supporting stream. The Department has a meteoric rise, it being the first among women's colleges in the city of Chennai to be upgraded to a Research Department with the introduction of the M.Phil course in 1989-90 and the Doctoral Program in 1994-95.
The Department is a pioneer in initiating, student's association activity-COMET ( Commerce- Ethiraj) which provides a platform for the students to showcase their innate potential and also in the release of a Department journal named Comet which bring out the innumerable talents of the students and in shaping the young minds. The UG and PG programs provide an in depth knowledge in the key areas of accounting, finance, taxation and research. Internship training enables the students to gain practical experience in the corporate sector.
The programme in Commerce assures professional education of immense value, equipping the students with adequate knowledge in Commerce that provides a firm foundation for personal fulfilment, professional success, and productive participation in society.
ETHIRAJ COLLEGE FOR WOMEN
ADDRESS
70, Ethiraj Salai, Egmore,Chennai 600008, Tamilnadu, India
PHONE
+(91)-44-28279189
EMAIL
[email protected]
On smaller computer screens website is better viewed at 75% zoom