Department Of Nutrition, Food Service Management And Dietetics
AIDED
B.Sc Nutrition,Food Service Management and Dietetics
Courses offered:  
UG- Nutrition Food Service Management and Dietetics 
Sanctioned strength: 50 
Papers presented in national and international conferences
Dr. K.R.S GirijaShyamsundar

Physiochemical properties, nutrient analysis, standardization, acceptability and glycemic index of organically grown indigenous rice varieties

National workshop nutritional and therapeutic properties of indigenous paddy varieties

A comparative study on assessing the impact of rice flakes sports energy bar on the performance of athletes

Indian Dietetic Association, Mumbai Chapter

A Comparative study on the impact of Nutrition Education Program on the usage of supplements of Recreational Body Builders in Gyms with and without a Fitness Trainer

International conference on gender dynamics: evolving strategies organised by Women's Christian College (Autonomous), Chennai 29th and 30th June, 2016

Hypoglycemic effect of black cumin seeds (Nigella sativa) on Type 2 Diabetes

Central Council Research in Siddha, Ministry of Ayush

Effect of sour milk supplementation on blood pressure in elderly hypertensive patients

National conference on organized by Department of Plant Biology and Plant Biotechnology, Women'sChristian College (Autonomous), Chennai 23rd and 24th January, 2015

Immune modulation effect of probiotic supplementation on post surgical gastric cancer patients

International conference on organized by Department of Home Science, Women's Christian College (Autonomous), Chennai 26th and 27th June, 2015
Department Structure: 
MISSION
To better human health by contributing to the knowledge base and potential of students  through Quality Teaching, Training, Research mentorship, Outreach and extension activities  and Employability
VISION
To train Young Women to develop scientific skills for healthy and ethical living 
Profile of the Department: 
The Department was established in 1985 offering an undergraduate program in Nutrition,  Food Service Management and Dietetics and has crossed a span of 36 years since its inception.  The decade of 2000-2010 witnessed a milestone in the Department with the introduction of  M.Sc. Foods and Nutrition in the year 2003, B.Sc Clinical Nutrition and Dietetics in the year  2005 and M.Phil Food and Nutrition in the year 2009 under the self-supporting stream. The program was conceived with the objective to create, deliver and develop the skills and core  competencies of the students in relation to nutrition and its application in the health care and  hospitality sectors. The curriculum is envisaged to enhance the students potential and  transform in the young women to grow into citizens with moral and social responsibility  besides providing employability/career opportunities This is achieved through internships and  extension activities as part of outreach programs in reputed institutions such as Sri  Ramachandra Medical College & Research Institute, Sundaram Medical Foundation and  AGADA built into the curriculum. A considerable percentage of students (about 50%) pursue  higher education in central universities and reputed colleges. About 35% are employed as  Dietitians in corporate hospitals and health clinics / fitness centres.  
The department offered a UGC-sponsored career oriented (one year program) Add-On  course titled Technology of Food Processing and Baking for a term of five years (from 2012  to 2017) to the undergraduate students of various disciplines free of cost. A full-fledged UGC  funded bakery unit has been established to enhance entrepreneurship skills amidst students. 
The Department also manages and operates an in- house crèche which caters to the needs of  staff and student's children and occasionally neighbouring colleges also. 
This illustrious journey is possible due to the high level of commitment and dedication of  the existing staff coupled with the foresight and vision of the former teachers namely  Dr.V.Parvathi-Founder HoD, Dr.KR.S.Girija Shyamsundar (Former HoD), Mrs.Neeraja  Krishnan and Dr.R.Hemalatha ( Former HoD & CoE). 
Institutional mail id: [email protected]
Facilities: 
The department is equipped with one smart board classroom, two classrooms with LCD with screen, two desktop computers with printer, one laptop and two OHP devices. The department is supported with state-of-the-art laboratories namely Physiology and Microbiology lab, Nutrition & Biochemistry lab and a Foods lab.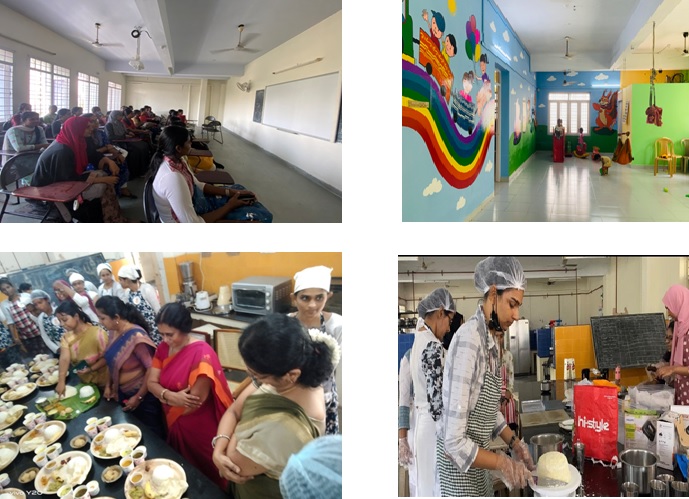 ETHIRAJ COLLEGE FOR WOMEN
ADDRESS
70, Ethiraj Salai, Egmore,Chennai 600008, Tamilnadu, India
PHONE
+(91)-44-28279189
EMAIL
[email protected]
On smaller computer screens website is better viewed at 75% zoom